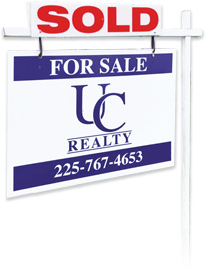 No One Knows UC, Like UC Realty…

We're conveniently located within the neighborhood, which allows buyers to stop in with easy access.
We are THE "Information Center" for anyone looking to learn about the community and what all it has to offer.
Always In the know about future filings, new listings, other properties that will be coming available in the near future.
Our on-site presence and daily availability to show properties within the community is important to both buyers and sellers in today's market.
We have a proven record of satisfied buyers and sellers in the neighborhood
We're members of the Greater Baton Rouge Board of Realtors and Multiple Listing Service

Testimonials

"Jamie was amazing to work with on selling my home. She is always professional and extremely knowledgeable in her field. Her experience and expertise was instrumental in the sale of my house. Jamie made the process extremely simple and painless. I would absolutely recommend her to others looking for a top real estate agent. "
- Michele Young, 2544 Tiger Crossing Drive
"Jamie did a wonderful job helping us navigate selling our home, especially while dealing with COVID. She was very knowledgeable about the Baton Rouge housing market, with particular expertise in The University Club. She provided guidance on open houses, virtual tours, staging, and worked with us through all aspects of selling our home all the way through closing."
- G Davis, 15424 Manchac View Court
"We listed our home with UC Realty and received a full price offer in one day! Jamie Ourso prepared us on how to properly stage our home and price it correctly to sell quickly. As first-time homeowners, she really taught us so much as we went into the process without the knowledge needed to put our house on the market and the importance of getting it in showing condition. Jamie knows the University Club better than any Realtor in town and so glad we made the decision to hire her to sell our home. I strongly recommend her to anyone else thinking of listing their home in UC. She will get the job done!"
- Dr. Daniel and Elena Fink, 3454 Rue D'Orleans
"My wife Gene and I, after interviewing several Real Estate agents, decided on working with Jamie Ourso here in University Club. Her knowledge of the development along with her attitude, work ethic, follow-up and attention to detail resulted in our home being sold within 30 days. Great Job! Excellent Agent!! Thanks Jamie."
-Gene & Dan Birch, Lac D'or Avenue
"Thanks, Jamie, for your outstanding work with listing and selling my home in UCP. Your sense of service and attention to detail make a real difference for your clients, and I am truly grateful. Things could not have been smoother!"
- Melanie B. Verges, Rue D'Orleans
"I want to thank Jamie & UC Realty for the assistance in selling my house in University Club Plantation. Picking a real estate agent is a big decision. The assistance I received to both prepare the home for sale as well as market the home proved invaluable. They met all their commitments made during the planning process and went over and beyond what was expected. Their knowledge of the University Club community and leadership in the sales process proved critical. I was very pleased with their support."
- Earnest Maxwell, Championship Drive
"Jamie Ourso did a terrific job in marketing and selling my house in University Club Plantation. Given the unique situation and complicated issues involved with the sale, I was very impressed with her professionalism and how quickly she resolved those issues and closed on the sale. I will definitely consider working with her again in the near future."
- Benjamin Daigle, Audubon Lakes Drive
"My wife and I were searching for a new home and contacted the UC Realty office for assistance. They provided us with so much information about the community that we were not aware of. We were shown homes that we could not even find online that were available for sale. Their availability to meet with us after hours was extremely important to us. We were well satisfied with the assistance we received and are looking forward to being a part of the UC family."
- Jeremy Glascock, Rue D'Orleans
"We hired Jamie to list and sell our home in University Club Plantation. She was very knowledgeable and professional to work with and we would definitely use her again if the opportunity arose. Jamie was easy to communicate with and was timely in her responses to our questions or concerns."
- Kyle and Jennifer Hodes, Rue D' Orleans
"Jamie is very knowledgeable of homes values in University Club. She was extremely responsive in all matters pertaining to listing our home and answering our questions. The sale of our home went smoothly and profitably. Thank you Jamie for your input and assistance in selling our home."
- Jim and Debra Mack, University Club Drive
"Jamie is very knowledgeable in her field and steers you in the right direction to get your sale done and to appropriately ask for the right price. She is an excellent choice when you want to move your property. She also helped us with our new home purchase by finding us a property in UC that was not on the market. It was exactly what we wanted! She truly understands your needs, and knows how to find it. Thanks Jamie, what a wonderful experience and we love our new home."
- Fabian and Monique Roussel, Memorial Tower Drive
"Jamie was great from the first day we met her through the closing. Her knowledge, experience, and guidance led us to getting our asking price despite putting our house on the market over the winter in an incredibly slow market. I liked that she was very proactive in getting our listing out to the public and did so through a variety of different methods/media that appeal to many different demographics. Jamie was also always available to answer our questions as first time sellers no matter how small or silly the question was. I would highly recommend Jamie to anyone trying to sell their home in south Louisiana and particularly University Club."
- Chris Day, Audubon Lakes Drive