NOW RESERVING LOTS in our Newest Filing of Scholar Pointe (11th filing, Phase 2)
Lots range in price from $168,000 - $299,000 and 0.22 to 0.61 acres in size. Golf course, lake and interior lots are available with average frontages of 75 feet. Last chance to purchase a golf course lot!
CONTACT JAMIE OURSO FOR MORE INFORMATION 225-802-7159 /JOURSO@UNIVERSITYCLUBBR.COM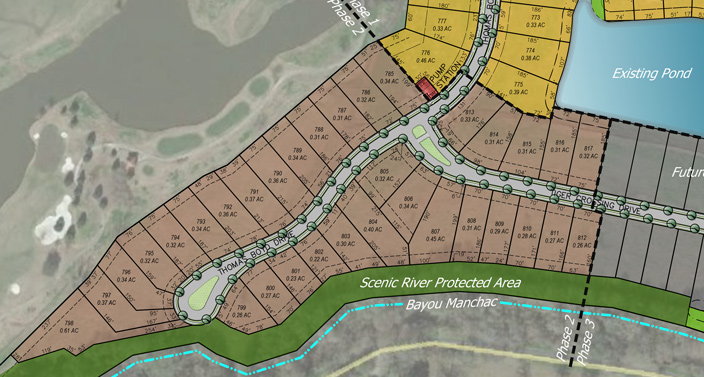 Click Map for Larger Version

Click Here for high-res PDF showing this second phase of Filing 11
in relation to the Scholar Point Phase 1 and with more legible lot dimensions.

Scholar Pointe Phase 2
| | | |
| --- | --- | --- |
| Lot Number | Acreage | Price |
| 785 | 0.34 | 226,000.00 |
| 786 | 0.32 | 228,000.00 |
| 787 | 0.31 | 226,000.00 |
| 788 | 0.31 | 226,000.00 |
| 789 | 0.34 | SOLD |
| 790 | 0.36 | SOLD |
| 791 | 0.37 | SOLD |
| 792 | 0.36 | 230,000.00 |
| 793 | 0.34 | 228,000.00 |
| 794 | 0.32 | 228,000.00 |
| 795 | 0.32 | 228,000.00 |
| 796 | 0.34 | SOLD |
| 797 | 0.37 | 230,000.00 |
| 798 | 0.61 | 299,000.00 |
| 799 | 0.26 | 175,000.00 |
| 800 | 0.27 | SOLD |
| 801 | 0.23 | 170,000.00 |
| 802 | 0.22 | 168,000.00 |
| 803 | 0.30 | SOLD |
| 804 | 0.40 | 190,000.00 |
| 805 | 0.32 | 190,000.00 |
| 806 | 0.34 | 185,000.00 |
| 807 | 0.45 | 218,000.00 |
| 808 | 0.31 | 189,000.00 |
| 809 | 0.29 | 185,000.00 |
| 810 | 0.28 | 185,000.00 |
| 811 | 0.27 | 185,000.00 |
| 812 | 0.26 | 185,000.00 |
| 813 | 0.33 | 190,000.00 |
| 814 | 0.31 | 186,000.00 |
| 815 | 0.31 | 186,000.00 |
| 816 | 0.31 | SOLD |
| 817 | 0.32 | SOLD |