Tennis Pro Shop Hours
Monday - Closed
Tuesday -Saturday - 11am to 7:30pm
Sunday – 12pm to 5pm
Pool Hours
(Swim at your own risk is permitted during tennis shop operating hours)
Monday CLOSED
Tuesday 11:00am - 7:30pm (Swim at your own risk)
Wednesday 11:00am - 7:30pm (Swim at your own risk)
Thursday 11:00am - 7:30pm (Swim at your own risk)
Friday 11:00am – 4:00pm (Swim at your own risk)
Friday 4:00pm – 8:00pm Life Guards
Saturday 10:00am - 8:00pm Life Guards
Sunday Noon – 7:00pm Life Guards
Concession stand will only be open during life guard hours.
Guarded hours at the pool will end after Labor Day each year. The swim team will host two meets during the summer. The pools will be closed during the meets but will open immediately following at approximately noon. Swim lesson and swim team registration both open in April and we will have more specific information each year as that time approaches.
Swim at your own risk is only available during Tennis Pro Shop hours. Staff must be available to check waivers and provide any assistance necessary. All members participating in swim at your own risk must have a waiver on file. Children under the age of 18 must be attended by an adult/parent.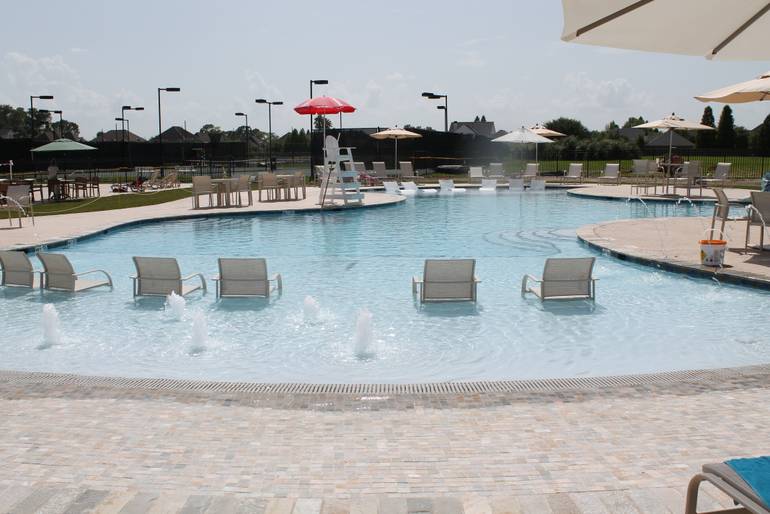 April hours are Swim at your own risk, Tuesday - Friday, 10am to 12pm and 4pm to 7pm, Saturday, 10am to 5pm
and Sunday, 12pm to 5pm.

The rules for "swim at your own risk" are as follows …
All participants must have a signed waiver.
Anyone 17 and younger must be accompanied by an adult.
Food and non-alcoholic drinks may be brought in while the concession stand is not operating. Beer may be purchased through the tennis pro shop.
The slide is only open when the pool is being supervised by lifeguards.
Note that the concession stand will be open during guarded hours and no outside food or drink will be allowed at
the complex.
The pools will open immediately following swim meets. We approximate a noon opening on those two dates.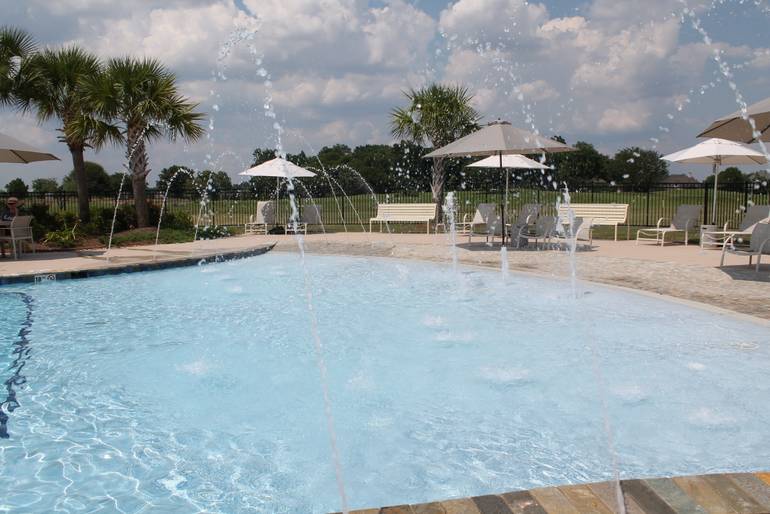 Pool Event Schedule
May 5th , Cinco de Mayo Fiesta co-hosted with HOA
May 27th, Memorial Day Celebration
June, Date TBD
July 4th, Independence Day Celebration
September 2nd Labor Day Celebration
More details will be given as these dates approach. Events are subject to cancellation or rescheduling depending on weather.
Swim Lessons
Swim lesson registration is now open. To sign up go to selaaquatics.com Select "Swim Lessons" and then University
Club. You will be contacted by an instructor to set up dates and times.
Swim Team
Registration is now open! We would like to welcome back Jessica Katzmarzyk to University Club! Jessica is a UCP member who swam on the club team for seven years, and also served as an assistant coach. You can read more about Jessica and her assistant coach, Caroline Harvey by followingthis link
https://www.universityclubsports.com/register/13533/main
. You will also find on this page the registration form, team suit information, practice schedules and the meet schedule.
Gym Reminders
With school letting out soon we would like to remind you of our age requirements for gym usage.
No one under the age of 15 is allowed in the gym at any time.
Members 15 to 17 cannot be given fingerprint access and MUST have a parent present at all times.
Members 18 and over may enter at any time with their registered fingerprint.
We issue cards to members that have trouble with their fingerprints being read. This card is only to be used by the
person to which it was issued. Cards will be deactivated if used by a second party.
Please understand that these rules are for safety and insurance purposes.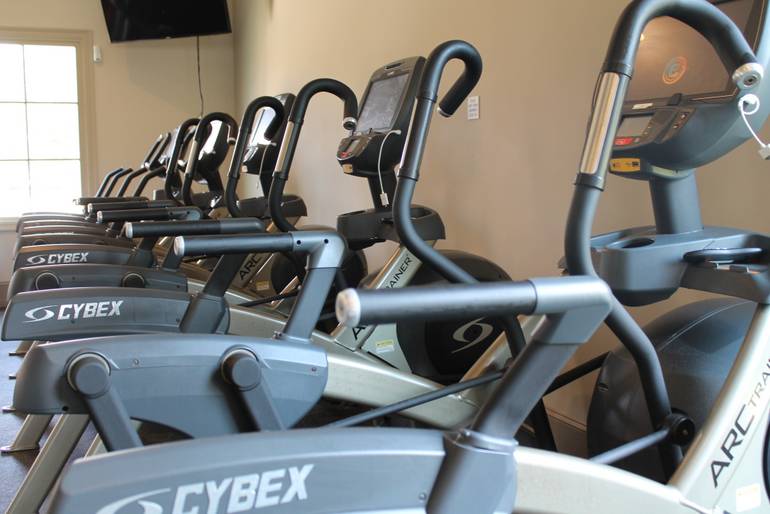 UNIVERSITY CLUB TENNIS
Club Adult Programs

UC Spring Adult Sunday Clinic
6-week clinic starting Sunday, January 20th 5:00 p.m. – 6:30 p.m.
Program uses instructional and play based coaching.
Fee: $65 UC members for all 6 classes, $75 non-members or $15 per class
Monday Adult Drill/Play Class
6-week clinic starting Monday, January 21st @ 6:30p.m.- 8:00 p.m.
Consists of 1 hour of instruction followed by ½ an hour of fun competition.
Fee: UC members $65 for all 6 classes, $75 non-members or $15 per class
2019 Junior Tennis Programs
Group A Classes

45 Minutes

Ages 5-8

4:30-5:15

Group B Classes

1 Hour

Ages 7-10

4:30-5:30

Group C Classes

1.5 Hours

Ages 11+ Advanced Beginners

4:30-6:00

Group D Classes

1.5 Hours

Ages 11+ Intermediate & Advanced

High School level

4:30-6
This Summer, we will offer five Junior Tennis sessions:
January 3 Week Session (Weeks of January 14-31) Mon, Wed, Thurs
February 4 Week Session (Weeks of February 4-28) Mon, Wed, Thurs
March 4 Week Session (Weeks of March 4-28) Mon, Wed, Thurs
April 4 Week Session (Weeks of April 1-25) Mon, Wed, Thurs
May 4 Week Session (Weeks of April 29- May23) Mon, Wed, Thurs
1 day/wk.
(choose 1 day)
2 days/wk.
(choose 2 days)
3 days/wk.
(all 3 days)
Group A/B
$56
$112
$168
Group C/D
$72
$144
$216

Junior Tennis payments can be made by check to Ray Anders, by credit card, or by you club account. Contact Ray by email ray@selaaquatics.com or call (225)773-1026 to sign up. Please sign up the Friday before the session begins. Rainouts will be made up on selective days.
Fitness Center Information
The fitness center is open 24/7
Access to the workout facility is granted thru a fingerprint system. To get set up, please visit the tennis shop to set up your access. A picture id is required.
Guests are allowed to use the fitness center at a cost of $5 per visit AND must be accompanied by a resident
Fitness center is open to members who are 18 years and older. Children 15 years and older must be accompanied by an adult. Children below 15 years of age are not allowed. NO EXCEPTION.
Personal trainers are allowed but must be provided by the member.
Use Equipment at YOUR OWN RISK
Prior to starting any new exercise program we recommend that you consult with a physician
Management assumes no responsibility for any injury that may occur
Please follow equipment directions carefully
Please wipe down equipment after each use.
Please use equipment only if you are in proper health condition to do so. Proper athletic attire is required. Shirts and shoes must be worn at all times. No wet bathing suits, no sandals, flip-flops or loose clothing.
No Food, alcohol, glass containers, smoking, or horseplay is permitted in this facility
No pets allowed
Please be watchful of your belongings. We are not responsible for any lost or stolen items. Items that are found will be kept in the pro shop for a week before being disposed of. Please report faulty or damaged equipment to a staff member immediately.
Please contact the fitness complex at 225-819-0800 ext. 5 for current hours and court reservations.